Daniel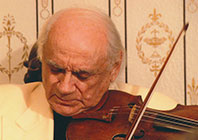 Russian born, internationally renowned violin virtuoso, was the concertmaster of the Bolshoi Opera and Ballet Theatre Orchestra in Moscow before leaving the USSR in 1975. Daniel began his musical training with professor P. Stolarsky, who was also teacher of Misha Elman, Nathan Milshtein and David Oistraich. He continued his musical training with D. Oistrach and received his master degree in violin from Moscow Conservatory.
Since his arrival to the USA he has been named concertmaster of the San Francisco Opera orchestra, Los Angeles Chamber Orchestra, performed with Master Symphony Orchestra, the Seattle Symphony and many other ensembles, performed on numerous film scores
How to find Daniel by email
Daniel resides in Hollywood CA, USA and is available by invitation to a few selected concerts.
Photo Gallery