"Spontaneous displays of astonishing virtuosity"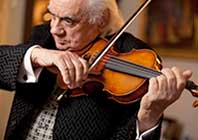 Daniel's performances have received wide critical acclaim.
Music critics lauded Daniel Shindarov's performances as: "Spontaneous displays of astonishing virtuosity, bravura, stylish musicality and incomparable playing!..."
"His imposing stage image commands the ageless Joi de Vive-authority that recalls Milstein his lyric passages project the heartfelt warmth of Oistraich, his mastery of expression devices remind these of Heifetz. Yet his style, highly individualistic is that of Daniel Shindarov: what a rare quality of supreme artistry!" Los Angeles Times
"Mr. Shindarov is a violinist who favors virtuoso heroics and executes them with daring, extroordinary flair, and seldom less than immaculate passage work." Henry Roth, B'nai Brith Messendger
"D. Shindarov is a master of all sorts of technical violinistic challenges, including double-stops, flying staccato passages, and difficult left hand pizzicati while simultaneosly bowing with the right. Not since Ruggiero Ricci appeared here have we heard virtuoso playing like this.Clearly, Shindarov is one of brightest jewels." Clint Erney, Santa Ana Register
"He is 87 years old and still one of the great violinists in the world. It is hard to believe that he is 87 and even harder to believe what he is able to do with the violin." Geoffrey maingart, Hollywood Today.
Here is a link to write ups in various publications about Daniel's performances. Reviews